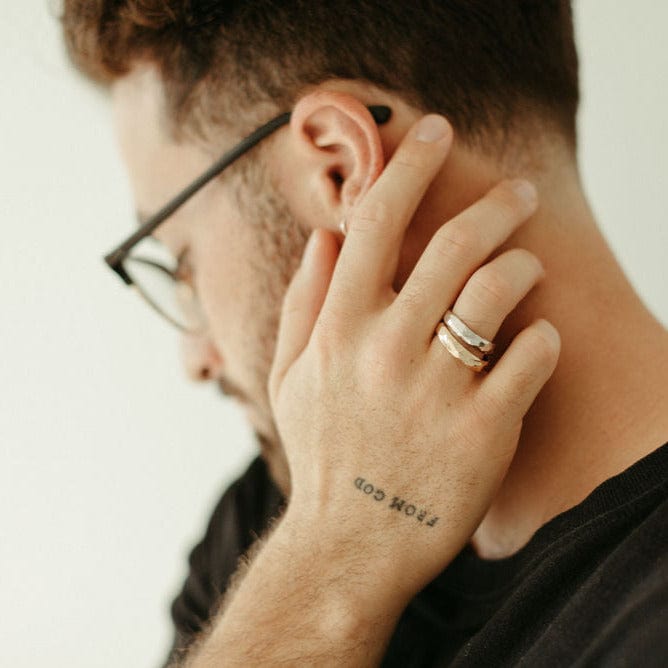 Shipping
Andronyk Studio is happy to ship Internationally!
Shipping in Canada and the US is free, while International customers can enjoy $100 flat rate shipping anywhere in the world.
Returns
I want to ensure that you are happy and satisfied. Ready-to-Ship pieces are eligible for returns and exchanges. Made-to-Order and Custom pieces are considered non-refundable as they are made just for you.
Need help?
Frequently Asked Questions
Shipping, returns, exchanges, warranty
Canada: Free Shipping via Expresspost (approx 3 business days)

USA: Free Shipping Via Fedex (approx 2-7 days depending on customs)

International: $100 flat rate shipping via Fedex, DHL or UPS (approx 5-10 business days depending on customs)
Please keep in mind that your country's Customs Agency regulations apply to your order. Any associated fees, duties, or taxes are solely your responsibility and are beyond the control of Andronyk Studio. Customs clearance times and fees can differ, so we recommend reaching out to your country's Customs Agency for precise information.
Please refer to your country's border agency regarding customs and duty fees.
Ready to Ship and In-Stock Pieces:
We gladly accept returns for our ready to ship and in-stock items. If, within 3 days of receiving your order, you find yourself less than 100% satisfied, please get in touch with us via email. Returned items should be in their original condition, unworn, and returned in the original packaging. However, please ensure proper packaging to prevent damage, as we cannot accept damaged or missing items due to improper packaging. Please note that starting from June 2020, a restocking fee of 10% applies to returned pieces. Additionally, we would like to inform you that Andronyk Studio cannot be held responsible for lost or stolen items during the return process. If any customs fees are incurred during the return process, an invoice for the full amount will be issued.

Made to Order and Custom Pieces:
Please note that pieces that are made to order based on your customizations are not eligible for returns. Our custom process is meticulously designed, involving regular progress updates and client feedback. The transparency and engagement during the custom creation process mean that we are unable to accept returns for these items.
Yes! Exchanges are possible for ready to ship and in-stock pieces, allowing you to receive full credit.

These exchanges are exempt from any restocking fees, providing you with flexibility in choosing the perfect piece that resonates with you.
Andronyk Studio has a one-year warranty.

What Your Warranty Encompasses:

Defects in Materials or Workmanship:

In the unfortunate event that a defect in materials or workmanship becomes evident, rest assured that we'll stand by our craft. We're here to facilitate repairs or replacements to maintain the integrity of your treasured piece.

What's Not Covered:

Normal Wear and Tear: While we design our jewelry to accompany you on life's journey, normal wear during intended usage isn't covered under the warranty. We want your piece to live with you, but remember that wear is part of its story.
Neglect or Accidental Damage: As much as we wish to protect your piece, neglect, excessive wear and tear, or accidental damage is beyond the scope of our warranty.
Third-Party Repairs: To preserve the integrity of your warranty, it's important that repairs or services are conducted by our skilled team. Repairs or alterations performed by another jeweler will unfortunately void your warranty.

Navigating the Warranty:

Whether you're within or outside the warranty period, I'm always here to assist you with resizing and repairs.

For jewelry care tips, click here!
Questions?
Check out more FAQs for more information, or, please fill out the form below and I'll get back to you within 48 hours. Thank you so much!